She's been around for 70 years now, and she still retains her girlish figure. And while her career isn't what it used to be, animated cartoon character Betty Boop lives on as something of a cult figure. Just ask any of the thousands and thousands of fans and collectors out there!

But no matter of her age or her employment status, Betty Boop is still Hollywood's first animated sex symbol.

Created by Grim Natwick, Betty Boop first appeared in 1930 as a dog character, making her debut in a film called Dizzy Dishes. She was the "love interest" of another dog character named Bimbo, in the "Talkartoons" series produced by the Fleischer brothers. She appeared in several cartoons as this dog character through 1930. But it didn't take long for Betty's popularity to top that of Bimbo's, and she soon became the main character in the cartoons.

But as Betty's popularity grew, she went through a transformation, and lost her dog characteristics along the way. Her dog ears eventually became earrings and before long she became the cute and sexy character that her fans have grown to love. Her body was modeled after Mae West, and her voice was done by Mae Questal.

All in all, there were more then one hundred Betty Boop cartoons produced, the last one being in 1939. But Betty's popularity began to decline after her creators were forced to "clean her up" under the Hays Code. That's when the short little skirts with her garter showing, disappeared. Her hemline then moved down to her knees, eliminating the "cute" and "sexy" characteristics that had made Betty popular, and that meant the beginning of the end of Betty's popularity.

But in the 1930's, during her prime, Betty Boop was made into dolls, toys, and many other collectibles. Then her popularity declined for several decades. But in the 1980's she began to become popular again. Now she has become more popular than ever, and there are many new products and collectibles available, among those are dolls, ceramics, T-shirts, posters, watches, and much, much more. Almost anything you can think of, is now available.





Betty Boop, Bimbo, Pudgy, and Koko
are owned by, copyrighted by, and licensed trade marks of
KING FEATURES SYNDICATE Inc.
and FLEISCHER STUDIOS, Inc..

All images of Betty Boop, Bimbo, Pudgy, and Koko are copyrighted by
KING FEATURES SYNDICATE Inc.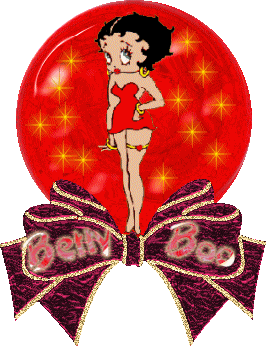 BETTY BOOP FACTS

*Betty Boop was designed by Fleischer studio and animator Grim Natwick.
*Betty Boop was born in the early 1930's at the Fleischer Brothers studios in New York.
*"Dizzy Dishes" was Betty Boop's First Cartoon Appearance.
* Betty Boop 's early appearances featured her as a dog with a human body.
* Betty was originally designed to be a canine girlfriend to Bimbo the dog.
* In Betty Boop's early cartoons she was featured as a suporting cast member and Bimbo as the main character.
* Betty's one and only colored cartoon in the 1930's was "Poor Cinderella" she was a red head.
* Betty Boop was first identified as "Betty Boop" in "Silly Scandals" in 1931.
* Betty Boops first appearance as a human female was in "Kitty from Kansas City" in 1931 and featured the singing of Rudy Vallee.
* During Betty's performance of "You're Driving Me Crazy" in "Silly Scandals" (1931), Betty's top kept falling off revealing a frilly bra.
* "Any Rags," released in 1932, was the first film in which her dog ears became hoop earrings.
* In the 1933 cartoon "Popeye the Sailor" Betty and Popeye danced the Hula together.
* The classic cartoon Betty Boop's "Crazy Inventions" was released in 1933.
* Louis Armstrong and his music were featured in the Betty Boop cartoon "I'll Be Glad When You're Dead You Rascal You" in 1932.
* Her cartoons were actually designed for adults not children.
* In 1933 Betty Boop's garter was banned.
* Helen Kane, a paramount contract singer, was know as the Boop-Oop_Doop girl.
* Betty Boop has some famous guest stars: Cab Calloway, Louis Armstrong, The Royal Samoans, and Don Redmans.
* In 1932 the release of "Minnie the Moocher" marked the first of the cartoons to feature a big name Jazz star, Cab Calloway, who also appeared in the two other Boop cartoons, "The Old Man of the Mountain" and "Snow White".
* Mae Questel, the famous oice of Betty Boop, was the first voice for Olive Oyl in Popeye cartoons.
* Betty Boop's last cartoons were made in 1939.
* The final cartoon Betty Boop made over 80 cartoons.
* The Daily and the Sunday Betty Boop comic strips were drawn by Bud Caunihan.
* Mae Questel's first role was in "Betty Co-Ed," 1931 and did the voice until the series ended in 1939. She was quite adept at mimicry and could imitate. anyone. She also, like Ann bore a striking resemblance to Betty.
* The voice of Betty Boop was done by several women, including Annabel Little ("Little Ann Little") Margie Heinz, Kate Wright and Bonnie Poe, but Little Ann Little did the voice first and then on the road with a Betty Boop act. The act consisted, in part of a drawing demonstration by Pauline Comanor, who drew Ann as Betty Boop and handed out the drawings to lucky audience members.
* Mae Questel-Voiceography -- also was the voice of Fleischer's Olivie Oyl; later she was also the voice of Little Audrey, as well as working on the Casper cartoon.
* Mae Questel the voice of Betty Boop, won a Helen Kane look alike contest as a teenager.
* "Hurray for Betty Boop", a disastroous color Betty Boop movie that was made in the late 1970's was released in 1980 and quickly went into video.
* "The Romance of Betty Boop" was televised in 1985, by CBS, it was an unsuccessful television special.
* Mae Questel, the voice of Betty Boop, died at the age of 89, on January 4th, 1998.
* Betty was in retirement up until 1988, when she came back on screen for an appearance in "Who Framed Roger Rabbit".





Betty Boop
Betty Boop was created by Grim Natwick, an animator at Fleischer Studios. In 1933, Paramount acquired the
cartoon rights to Popeye, and he was introduced in an episode of Betty Boop. Betty Boop was made
until 1939, when Mae Questel, who did the voice of Betty, decided to stay in New York, hence the less
frequent appearances of Olive Oyl in the Popeye series. In 1955, Paramount was planning
to sell 2000 short subjects to television for $4.5 million. Some of this information
is conjecture. U.M.&M. T.V. Corp., a consortium of television stations, made
the offer. U.M.&M. was headed by A.W. Schwalberg, Paramount's former VP in charge of domestic distribution.
In the meantime, King Features Syndicate, negotitated a deal with Associated Artists Productions,
headed by Eliot Hyman, to buy the Popeye cartoons. Therefore, the Popeye cartoons ended up in A.A.P.'s hands.
NTA, or National Telefilms Associates, decided to "enhance" the old Boop cartoons with color using the same process
of copying cels and re-creating backgrounds as the 1968-69 Looney Tunes redrawns.